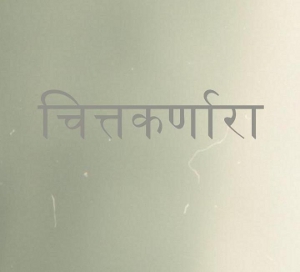 David Kirby

Cittakarnera

(01:08:14)

David Kirby : four tape recorders

Thanks to: Jon Abbey, Travis Johnson,
Richard Kamerman, Massimo Magee,
Vijay Das, Alicia McGee Simpson


glass-mastered CDs in full color digipacks
edition of 150 copies



In some ways, an oddly retro recording, 68 minutes of, essentially, tape collage of the mash-up kind that recalls not so much the mix 'n' match aesthetics of downtown NYC in the 80s but more (at least for me) an aural equivalent of a certain kind of telecast that used to run on Manhattan Cable where some inspired fellow would meld swatches of film stock in rapid-fire fashion, linking things more or less thematically--explosions, dinosaurs, punches, kisses, whatever--in a manner that, at its best, beca,me almost rapturous.

It begins wonderfully enough, bird and insect sounds augmented by a whirling, vaguely metallic noise, liked oiled steel plates sliding atop one another. After several minutes, that gives way to...well, a whole smorgasbord of things. Credits list four tape recorders (sounds like turntables as well) and I'm wondering, given what I saw Kirby capable of accomplishing last fall at AMPLIFY:stones, whether this might be a live performance; I wouldn't be totally surprised, though the depth achieved, one way or another, is very impressive. Describing it is difficult, not the least because of it shifting substance, snatches of near-recognizable music of various genres (hip hop represented with some prominence but "Beautiful Dreamer" also stops in) butting shoulders and knees against a kind of swirling electronics that summons, to my mind, Pierre Henry, even Terry Riley at his most abstract.

Personally, I don't have long patience with this mode of attack, at least these days. It's interesting that it almost achieves a kind of white noise aspect by evening out the playing field so that one sound more or less equates to another, but that "almost" doesn't negate the nagging identifying tendency one has as you try to mentally find patterns, look for logical or dream-logical associations, etc. Kirby may well have employed some system or structural design or he may have free associated, but while any given three minute segment retains a goodly amount of intrigue, as a whole, it's an overwhelming, sheer mass of data that ends up leaving bruises but few other lingering impressions or thoughts, though the maelstrom that occupies the final ten or so minutes is cohesive and quite beautiful. An oddly mixed bag, then.
- Brian Olewnick, Just Outside
Today was a miserable day. Apart from the fact it has been grey and wet now for about a month, and today just followed on in the same suit, Julie has gone down with the virus I had a few days back, work was tough, my back aches a lot and I poured coffee into my lap this evening. Ah well, only another couple of months before I go away on holiday, on which subject may I draw your attention to this call for submissions.

Anyway, I have been able to spend some time tonight with a CD by David Kirby, an American musician whose music has somehow escaped my attention in the past, but who has a relatively recent release out on the Copy for your Records label named Cittakarnera. This is a curious, unusual release in this day and age- a cut up, spliced together tumbling collage of bits and pieces of everything created apparently using just four tape recorders. The disc contains just the one track, which clocks in at a little less than seventy minutes, though it does click through several very clear sections as the music changes tack quite dramatically. What we hear then is a semi-chaotic collage of bits and pieces of music, old and new, pop and otherwise, plus strange psychedelic synth sounds, grabs of spoken word, looping and abused tape forced back and forth against tape heads and even field recordings of birdsong, as we hear when the album opens. Sometimes the pace is very fast, with fragments flying about at high speeds, and sometimes it all slows into a thicker, more gradual movement, sometimes sludgey, sometimes more fluid. What there isn't, at any point, is any silence or room to breathe.

I mentioned that Cittakarnera is an unusual release in this day and age because, on the whole, we don't hear so much of this kind of slammed together plunderphonic collage nowadays. The music here has an occasional kitschy edge to it, with one voice talking in a trippy dreamlike state at one stage, eighties drum machine rhythms suddenly appearing elsewhere, as do piano sonatas and what sounds like a badly warped recording of When you wish upon a star. I am reminded a lot of the music of Stock, Hausen and Walkman, a group I enjoyed a lot in the late nineties, who threw together similar assemblages of wildly disparate elements in a similar way, or the early turntable works of Otomo Yoshihide, complete with the grainy, distortion-laced layer of noise. My opinion of this music, or perhaps of Kirby in particular would probably change if I knew how the album was put together. If this constant attack of bits of other cultures was put together in real time, and recorded straight down as it was created then I am very much in awe of Kirby's dexterity and ability to pull together a constantly changing and interesting mix of sounds on the fly. If the work was compiled with the help of digital sequencing in some way then I am less impressed. I suspect something in between. However it was made though, the end product is the end product, and I will say that I found it a fun, enjoyable ride, with occasional moments when the way that sounds were combined really impressed, and other moments when, having slipped into entirely kitschy, humorous territory just the one listen was enough. Cittakarnera is, on the whole, a fun album and just the kind of thing to listen to on days like today when everyone you speak to seems depressed, and in places it offers more besides. If it turns out the album was also put together on the fly then I will be even more impressed again.
- Richard Pinnell, The Watchful Ear
David Kirby est un artiste sonore originaire d'Atlanta, créateur du superbe netlabel homophoni, et dont la musique se situe plutôt dans une veine eai. Son travail est aujourd'hui principalement axé sur les cassettes audios (en partie parce qu'il en avait apparemment marre de passer autant de temps sur un ordinateur...). Pour cette longue pièce de 70 minutes, Kirby utilise donc comme principale source quatre enregistreurs cassettes. On y trouve des chants d'oiseaux, des bruits méconnaissables, des chansons de pop, de rap, de musique électronique, de classique, des musiques de films, du métal, etc. La liste est longue, très longue, autant que le disque j'ai envie de dire. Car c'est assez difficile de digérer ce collage et ces manipulations (ralentissement de la bande, accélération, lecture à l'envers, distorsion, amplification du souffle, "scratch") pendant aussi longtemps. Kirby a produit pour ce disque un gigantesque collage magnétique, assez linéaire et monotone, qui a parfois du mal à retenir l'attention... Après, il y a des passages vraiment jouissifs, intenses ou puissants, forts et osés, mais c'est tout de même inégal dans l'ensemble, et la démarche, le collage systématique de sources parfois incongrues et inattendues, lasse au bout d'un moment. Un disque talentueux mais peut-être un peu trop ambitieux.
- Julien Heraud, Improv Sphere
I have no idea who David Kirby is. I assume not any of the ones I found easily on wikipedia. Maybe an artist website mentioned on the cover would be nice? Kirby gets credit for four tape recorders and nothing else. What's on those tapes is not easy to describe, but you could perhaps safely say its a very extended version of The Beatles 'Revolution Number 9'. Bits of reversed tape, bits of wrapped tape, bits of voices, bit of tape decay, street sounds including hip hop rhythms, classical music, everything I guess, except 'turn me on dead man'. Its hard to see heads and tails here, and its hard to say wether this is all the result of meticulously composing or a more or less random mixing of randomly stuck together pieces of reel-to-reel together. At sixty-eight minutes and fourteen seconds this seems a bit long to me, and its no doubt best enjoyed when played in one go, as one flow of sounds, coming in like a summer rain: loud and sometimes endless. But then: who has the time or energy to play such a long work all the way through when there is perhaps so much more around, and Kirby could have made his point easily in half the time?
- Frans de Waard, Vital Weekly